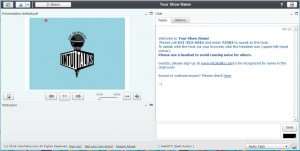 All shows/Classes open in Radio Style, this view shows the chat and presenter only. As host, only you can see the presenter tools. And, only you can mute and unmute callers who have dialed in. Users in chat can unmute themselves, but you can lock microphones, too. (see host panel for instructions on how to do that).
Click any picture to enlarge.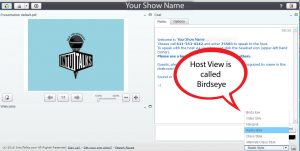 Click the arrow beside Radio Style to see the show style menu. These styles are preformatted layouts for your show or class.
If you wish to lock the view for your audience, click the button on the bottom right.
If you hover over the button it will show ' Apply current layout to all viewers'.
Please Note: You can lock the viewers, then open birds eye view as the host so only you can see the host panel.
If unlocked your audience can change their view at will.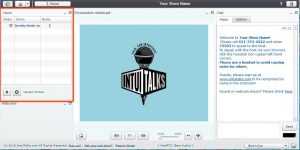 Birds Eye View shows the host panel, presenter tools and chat.
You need to see the host panel to take calls, mute or unmute callers and moderate your show.
Click Here for Chat Features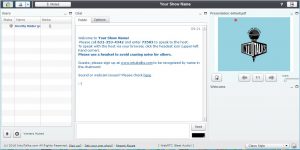 Class style optimizes the chat for maximum interaction and ensures all class members can see every other class member.
It shows a small picture and the teacher on video if desired.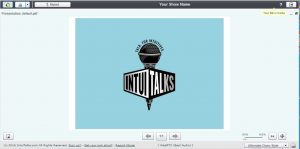 Alternative Class Style hides any chat or class members prioritizing the images. This is great if everyone is on the call where detailed imagery is needed, bearing in mind chats are recorded, this could be the best solution for paid events or classes where engagement is secondary to the information shared.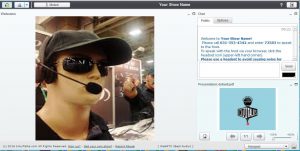 Hangout style prioritizes the host, a smaller chat is available to viewers who can ask questions, and the presenter is small.
Any person can scroll back up the chat to see comments they may have missed.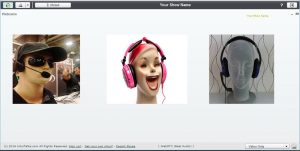 Video style prioritizes all cameras. great for group calls, classes, seminar styles or panel shows where chats may be irrelevant.
Please Note: Layout styles are completely flexible, you can play with the different elements at will and make the result a current view for everyone. You will see a minimize and maximize button on each loaded entity and you can enlarge or alter the size of any element you choose.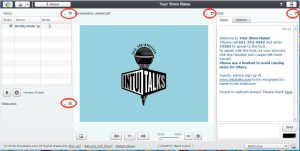 Click on any button to minimize the feature.
Hover over the edge of any element to change its size.