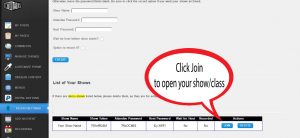 1. Go to your dashboard
2. Click on studio
3. Click join
Click any image to enlarge.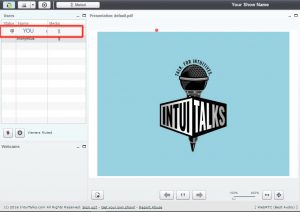 As host your name will always be at the top of the host panel, you will automatically have presenter controls and you will be muted.
Open the line by clicking the unmute button or by clicking on the microphone icon by your name. If you want to call in using a landline or Skype, click here. As soon as you open the line you are live on air.
Use your device mute button or click the mic again to mute.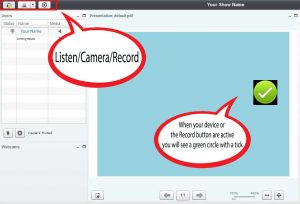 Click on the headset or webcam icon to activate it. You will see a permissions pop up, click allow. If you have enabled show recording click the record icon. You can start or stop recording at any time. Once activated you will see your webcam live as everyone else does, any greyed icon shows that the device is NOT active.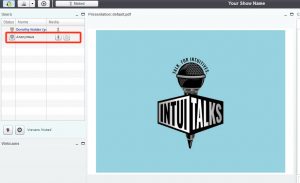 Hover over any caller/listener to see presenter, mute/unmute and presenter controls. You can share the presenter with members of your audience by clicking the presenter icon next to their name. Get the control back by clicking the icon next to your own name.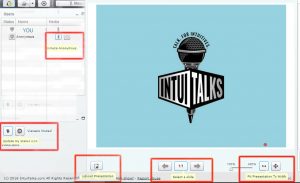 Hover over any button or user to see screen tips.
These are little pop up aids so you know what each button does even before you click it.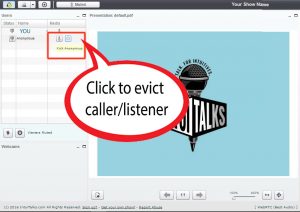 Problem listeners or trolls can be booted from your show at the click of a button.
(This will remove them from the show for that session only).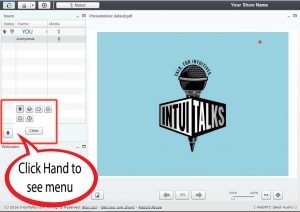 The hand can be used by listeners only when the Bird's Eye View layout is available to them. You can ask users who are in the chat with their mics activated to click the hand icon or any smiley to help identify or prioritize callers.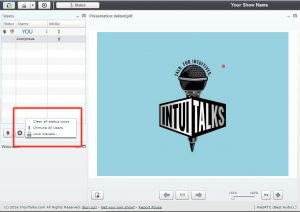 1. Clear any status icons, hands or smileys
2. Unmute all callers comes in handy for classes or open mic shows
3. Lock viewers at any time
You can lock your listeners' ability to change their layout, to chat, or to unmute themselves.
For example:
Click 'lock viewers…' and check off microphones in the list, then click apply to disallow ANYONE from unmuting themselves.
You will now see a padlock icon next to every user's name.
To bring a particular listener on air, click the padlock next to their name, and then click their mic to unmute them.