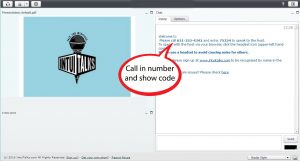 1. The first thing you will see in chat is the blue information dialogue which loads automatically when you open the show. This moves up with the chat whether you type or not, if you want the call information, highlight, copy, then paste it where you can easily get back to it if you decide to call in. Alternatively you can scroll back up the page to where you first signed in.  Click any picture to enlarge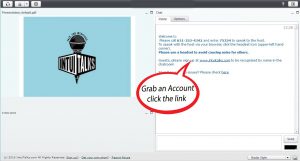 2. Grab an IntuiTalks account to save signing in to each show or to follow shows, click the link directly in chat. This opens a new tab, once you have created an account, refresh the show page.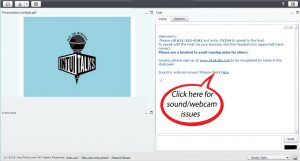 3. Click the link in the chat if you can't get sound or are experiencing webcam issues. You can also click the "?" icon located in the upper right of your screen to troubleshoot your webcam or sound issues. This will take you to our troubleshooting page.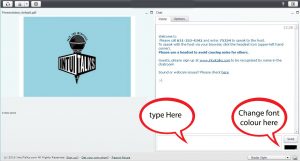 4. The dialogue box is at the bottom, as is the font colour. After typing click 'send'. Type your message into the box then click send (just above the font colour selector)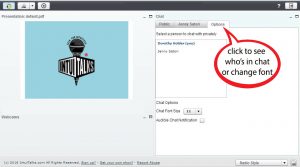 5. Click the options tab to see who is in chat or to change the font size in your chat box. You will also see an audible chat notifier that you can turn on or off under the user list.
To send a private message click on the other persons user name and a new tab opens up.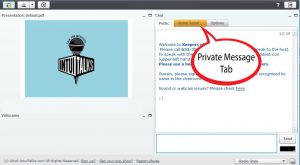 6. A new tab appears between public and options when someone sends you a private message, their name is displayed on the tab, and it is coloured orange.