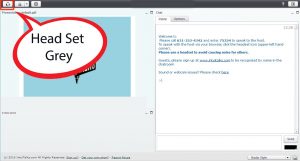 1. If you open a show and your headset is grey, click on it to open the pop up listener options, and click the speaker icon. If you have been making adjustments with no results, you may find it better to close your browser and start again to clear your browser cache.
The Following instructions will be for sound or mic issues as you are using the same device for both. If you are using a mobile phone, click here.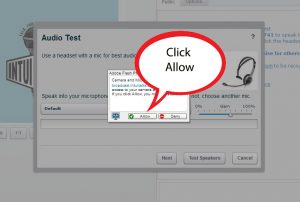 2. If you can't get your sound or mic working, close your browser completely, open the show as before and go through the steps on Listen/View a Live show or Call in to a live show
You should see this settings pop up if you are new to shows on IntuiTalks.
If you don't see the settings (as shown) pop up, your browser settings may not allow it. Check the top right of your screen to see if the pop up is blocked. If you see this, click allow, you can choose to "always allow" for IntuiTalks so you don't have this problem in the future.

Chrome 

Open Chrome.
In the top-right corner, click the icon you see: Menu or More .
Click Settings.
Click Show advanced settings.
Under "Privacy," click Content settings.
Under "Pop-ups," select Do not allow any site to show pop-ups (recommended) or Allow all sites to show pop-ups.

Firefox

To access the pop-up blocker settings:

Click the menu button and choose Options.

Select the
panel.
In the Content panel below Pop-ups:

Uncheck the box next to Block pop-up windows to disable the pop-up blocker altogether.
A click on
opens a dialog box with a list of sites that you want to allow to display pop-ups.
The dialog box offers you the following choices:

Allow: Click this to add a website to the exceptions list.

Remove Site: Click this to remove a website from the exceptions list.

Remove All Sites: Click this to remove all of the websites in the exceptions list.

Firefox Help
Edge/Explorer

Pop-up Blocker features

Detailed description

Defaults

Pop-up Blocker is turned on by default. There are restrictions on the size and position of pop-up windows, regardless of the Pop-up Blocker setting. Pop-up windows cannot be opened larger than or outside the viewable desktop area. For more information, see "Windows Restrictions" in this document.

When this functionality is enabled, automatic and background pop-up windows are blocked, but windows that are opened by a user click will still open in the usual manner. Note that sites in the Trusted Sites and Local Intranet zones do not have their pop-up windows blocked by default, as they are considered safe. This setting can be configured in theSecurity tab in Internet Options.

Enabling Pop-up Blocker

Pop-up Blocker is enabled by default. You can change this in the Tools menu, with the Pop-up Blocker item, or in the Information Bar when a pop-up is blocked.

When a pop-up window is blocked

If a site opens a pop-up window that is blocked by Internet Explorer, a notification appears in the Information Bar and status bar and a sound is played. If you click the notification in the Information Bar or status bar, you see a menu with the following options:

Temporarily Allow Pop-ups. Reloads the page, allowing pop-up windows.
Always Allow Pop-ups from This Site. Adds the current site to the Allow list.
Settings. Shows more Pop-up Blocker settings menu items and gives access to the Pop-up Blocker Settings window.
Didn't find what you were looking for?