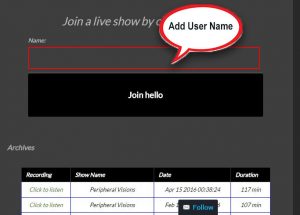 1. If you have no account or are not signed in to your account, type in a user name to be recognized in the chat by that name. (particularly helpful if you want a reading)
PLEASE NOTE: This does not create or register an account on IntuiTalks,  to create an account click here.
Click any picture to enlarge.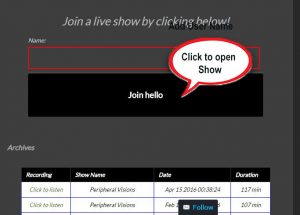 2. Click the Join button to enter the show and wait for it to load.
There are two options when you wish to call into a show, direct call (computer to computer), a headset is advised as this is very sensitive and any sounds in your environment will be heard live on air. Telephone, cell or skype calling, it is still advised to use a headset for good sound and to remove any chance of echo.
Option One: Direct Call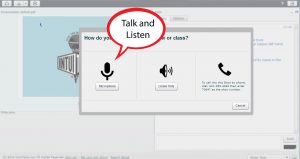 3. Click the microphone icon.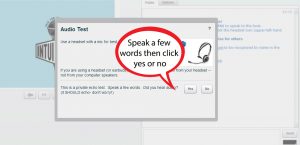 4. This is the sound test icon, say a few words and if you hear yourself click yes, you will be taken straight into the show. Your mic is muted until the host takes you on air. If you don't hear yourself, click no.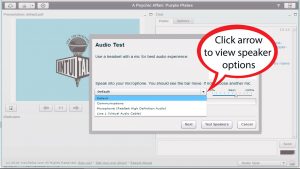 5. Click the arrow to see the speaker/mic menu, then choose the device you are using.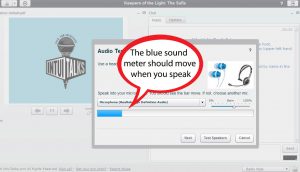 6. Say a few words. If the blue Audio Meter doesn't move, click the arrow again and choose another option. Continue doing this until you find the device you are using, if the blue bar moves when you speak, your mic is working perfectly.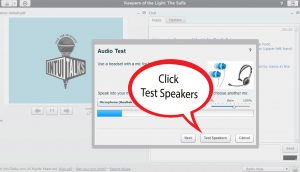 7. Click test speakers, you should hear music playing. If you do, click next. You will be taken into the show.
Option Two: Phone or Skype
1. On the show pop up you will see the call in number and the show code. Write these down and click cancel. Call the number and enter the code.  You will be able to see all the pictures and join in the chat while on the call. You will be muted until the host takes you live on air.
PLEASE NOTE: it is advised that you don't use hands free features on your phone unless you also use your device headset. This ensures that your sound is crisp and clear and that you can hear the host easily.