Events are placeholders for your shows/classes. They are to let everyone know on IntuiTalks that you will have a show on that date.
It will not, however, create a button on your show page, to do that, please click here.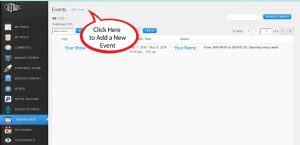 1. Click on Add Event in the black menu, then click on Add New.
Click any picture to enlarge.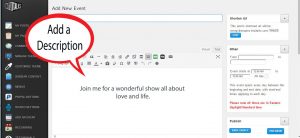 2. Write a catchy description of your show, the more detail the better.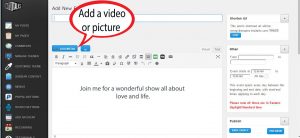 3. Add a picture to your event page, this will display when you share your show anywhere
Click here for info on how to add media.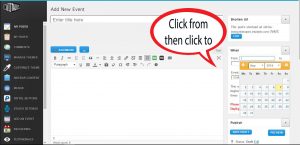 4. When you click in the 'from' dialogue box, a drop down calendar menu appears. select the date. Even when the event is on the same date, you need to fill both the 'from' and  'to' fields.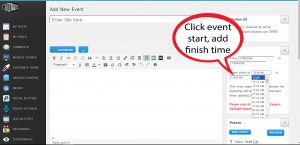 5. When you click in the 'event starts' dialogue box, a time menu appears, select the show start time and then select the finish time. Filling both the 'from' and 'to' fields. If your event is not an online show or class, you can click the all day field also.
Please Note: All times are in Eastern Standard or Daylight time.

Also note that if your show starts at 11pm and ends at 12:30am, you will need to enter "1" for the duration of the event. If you don't, the system will deny your event since it's technically going from a date and time to a date and time that is earlier than your start time.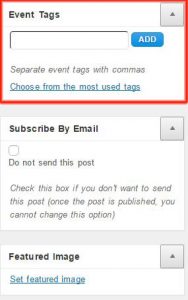 Adding tags helps others to find your event easily and is well worth doing.
Note you can add a featured image, this shows as a default picture when you share your event.
*Highly recommended as this image will show on IntuiTalks' front page and other places throughout the site that lists all upcoming events.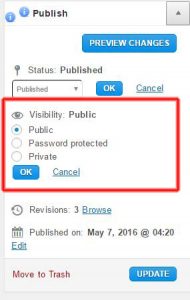 Privacy settings come in handy when you have a group event, class or password protected show or class where you only want people with your password to see the content on the page.
(For private shows or classes, remember to email IntuiTalks in order to have this feature activated for your actual show/class). 
Any time you wish to delete an event, simply move to trash.
Preview your event to see how it will look to others.
Once you have published your event you will see an update button. Click it to save any changes, after you have already published an event.
You can change dates, times, description and images at any time.