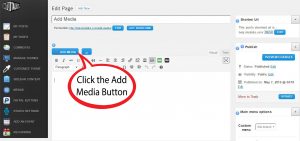 When you open any page or post you will see the add media button. Click it to bring up the upload/add page.
You will find you have a number of options for adding pictures and video.
Click any picture to enlarge.
Add Single Picture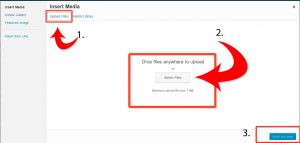 1. Select upload files tab.
2. Click the select files button or drag and drop images onto the page.
3. When the file has uploaded, the insert into page button becomes active.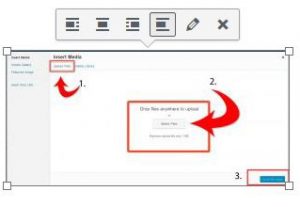 4. Click on the image to see the toolbar. Here you can click edit, re-size, delete or any of the position icons, to place your image exactly where you want it on the page. Text will wrap around an image when aligned to the left or right, giving posts and pages a professional look and feel.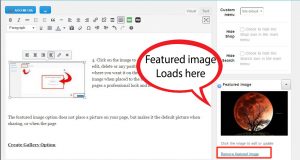 The featured image option does not place a picture on your page, it shows when sharing your post, event, or page. You can add this picture in the media menu as above, or click on the Add/Remove Featured Picture on the page. It becomes the default picture.
This is a recommended thing to do when adding events. Your featured image will show on IntuiTalks, where your event is listed.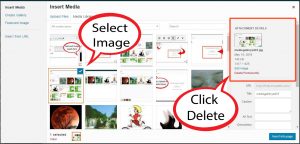 To permanently delete images from your library, select the picture then click trash or delete.
Create Gallery Option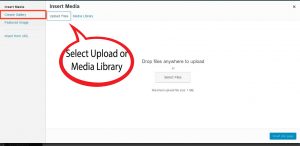 1. Creating a gallery is great when you want to add a number of photos and have choices as to how they display. If you have already uploaded all the photos you want, click media library, if you need to upload pictures from your computer, click upload files.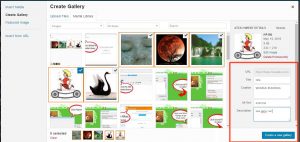 2. Add a title, caption or description. 'Alt Text' is text that shows if the picture is not displayed. You can leave all these blank if you desire. Once you have selected and edited your images click 'create a new gallery'.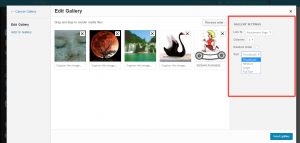 3. Select how your gallery will display in gallery settings, choose column numbers, thumbnail size and how the pictures are displayed, or reorder your pictures. If you don't like the result, simply click on the gallery and click x to delete. If you wish to update your gallery, click on it and then click the edit icon (this looks like a pencil).
Below is an example of a three column gallery with and without captions. The captions present when the cursor hovers over the image.
Add Media from URL Option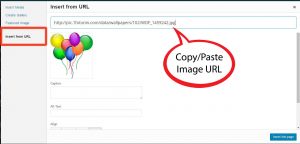 1. Click the insert from URL tab.
2. Add the address where the picture is located. This needs to be the actual image URL and not a search or whole page.
Right click the image and then click open in new tab.
3. Click the insert into page button. As above, click on the image in your page to adjust size and position.
Please Note: Use the Insert from URL tab to add videos as well as photos, if you wish to add a sound track it will automatically create a link on the page. Adding a video loads the video directly on to the page so your fans can watch it without leaving your site, post or page. Below is an example of an inserted Video. (You can also just put the actual link to a Youtube video into "text mode" of your editor to have a video automatically show on your post/page).