To start the ordering process for getting a website and/or audio package, go to our packages page.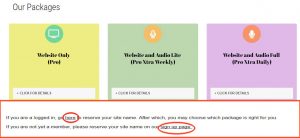 1. Here you can view the details of each package. For example, if you want a website without a show, choose the first option.
Click details on all three packages to make sure you are getting exactly what you want.
You can start with a web site and upgrade at any time.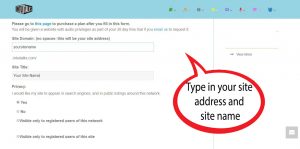 2. Create your site-
This is required regardless of whether or not you want a website only or audio package. Go to this page to get started. In the first section, type in your desired site address. Something like: "psychicmerlin." There should be no spaces and no special characters in this field, as it will create your site link. In this instance, you would have created the address: "psychicmerlin.intuitalks.com."
Please note, this url cannot be changed once created, so be mindful when choosing your site address!

3. In the next box, type in the name that will be viewed on your site. For example, "The Psychic Merlin." Scroll down and click create.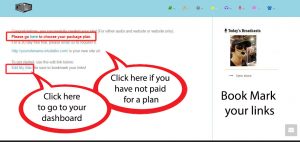 4. Once you have created your site, be sure to bookmark all the links provided on the success page. These are the links you will need for both visiting and editing your site. If you have not paid for a plan you will be directed to the payment page (when attempting to get into your dashboard). If you have already paid, you can dive on in and start playing with your new site.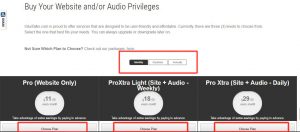 5.  If you have not yet done so, you will be directed to choose a plan, this includes whether you wish to pay monthly or take advantage of longer term savings. Once you make your selection, (by clicking on which plan), payment options will appear at the bottom of the page.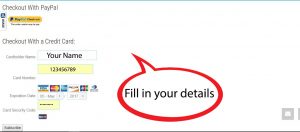 6. Select the way you wish to pay and fill in your details. Once paid, you will have created a subscription. This means you will be billed either monthly, quarterly or yearly- depending on which offer you selected.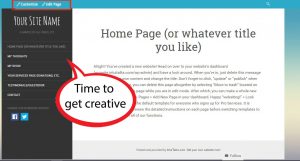 7. Once the above steps have been done, click edit or customize to find your dashboard and customization controls.  You are now ready to select a theme and add content to your site. Alternatively, you can just add "/wp-admin" to your site address to get into your dashboard. For example, "psychicmerlin.intuitalks.com/wp-admin."
Click here for help with your dashboard.
Click here for help with themes.