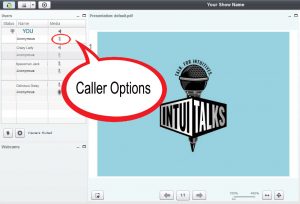 Listeners have two options for dialing into a show/class.
1. They can phone in using a landline phone, cell phone, Skype, etc.

2. Direct dial/browser to browser (from anywhere in the world without charges or any other device). 
Direct Dial users are signed into the show, so the name that appears by their muted mic will be the same as in the live chat.
Click any picture to enlarge.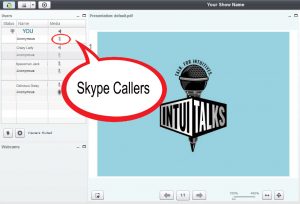 Individuals using skype paid accounts present as anonymous.
A listener calling from a phone (or using skype), will show twice in your host view if they are also signed in to the chat.
If they have speakers enabled as well (in the chat), and they are on the phone, the double sound will create an echo.
You will need to advise them to cancel their sound in chat to fix the echo.
When you see a name with no speaker or mic icon next to a user name, it is likely that person has called in.
1. Speaker only enabled means they are only listening.
(The listener can click on the headset icon on the upper-left of the page to activate their microphone any time during a show if they decide to call into the show).
2. Microphone enabled and muted.
3. Active caller speaking.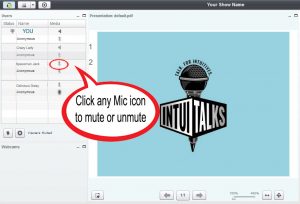 1. Click any mic to bring a caller on air.
2. Click the mic again to mute the caller.
3. You can take a maximum of 25 phone callers simultaneously. For browser to browser/direct calls (people who enable their mic online), there is no limit.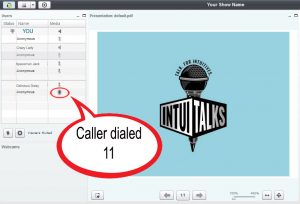 When a caller dials into the show they are asked to enter your show code. After which, they are asked to dial 11 to speak to the host.
You will hear a tone as they appear on your host panel and their mic will flash momentarily.
Please note: if you bring a caller on air and there is echo or noise, you can mute them while they are not talking to maintain show quality and, unmute them when ready to speak. For maximum quality ask callers to wear headsets.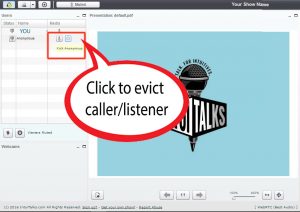 If you have a troublesome caller, or a troll, hover over their username and you will see the screen tip and kick button.