There are a number of options when it comes to listening to recorded episodes. You can view the whole show including the chat, slides and video, or you can just listen using your computer, phone or tablet for either option.  If you are driving please use hands free and choose a listen only option.
Option One: Viewing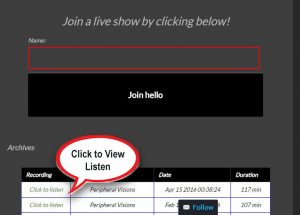 1. Click any listed show to view it on your computer, tablet or phone.   The episodes load in their entirety so don't buffer as you might be used to with youtube or other sites streaming, this also means that if you have a slower connection once the episode has loaded, there will be no waiting. .
Click any picture to enlarge.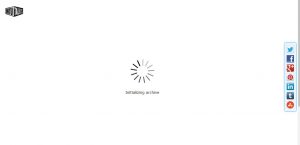 2.  In the event you have a really slow connection, wander off and make a cup of tea, it will load for you.
It will look like this while it is still loading.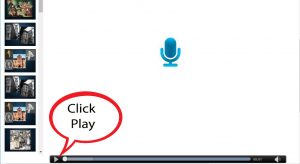 3. Once loaded it will look like this. Click play whenever you are ready for the video, sound and chat features.
You can pause at any time.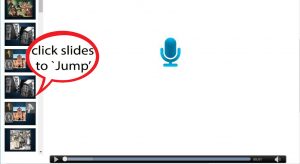 4. When viewing a show or class you can click on a slide to instantly jump to that exact place in the episode. It is a wonderful feature for classes or, if you get a reading and want to find it. (Please note this works only when a host uses a number of images in their presenter). No need to fast forward or rewind.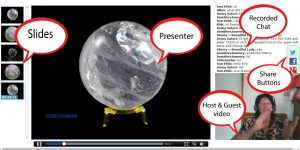 5. Your playing show/class should look something like this. It is well worth remembering the chats are recorded live and play through the show in real time. If you get a chat reading or have a conversation with someone and want to refer to it at any time, you can pop back into the recording and grab it.
Option two: Listen Only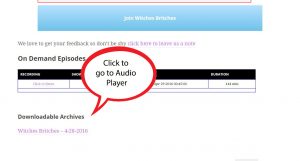 1. On show/class pages, you will see a link to downloadable archives, click the link.
(If there are a lot of shows it will take you to a new page).
2. Click the play button to listen on any device.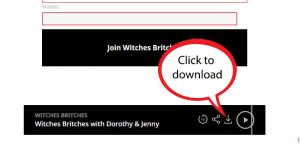 3. Click the down arrow icon to download the episode. You may wish to embed a recording in your web site or blog rather than use a link, or you may want to populate your Spreaker, Youtube, Soundcloud or other podcast hosting site, with a show you hosted or guested on.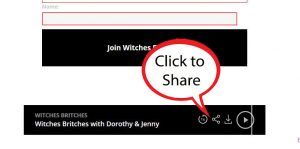 4. You can share episodes on your favorite social media to promote your shows, classes or guest spots,
… or just because you loved the show and want your friends to hear it too.