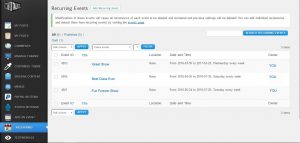 1. Open your dashboard and click on recurring.
The beauty of a recurring event is once you set it up, you don't need to worry about it until it comes to the end of its span.
Click on any picture to enlarge.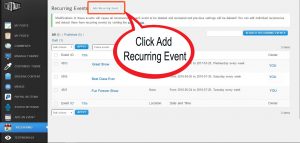 2. Click add recurring event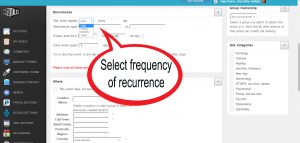 3. How often is your event going to run? Select daily, weekly, monthly or yearly.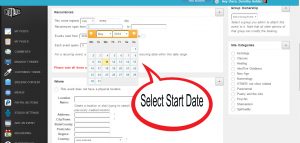 4. Select the start date from the drop down calendar. Don't forget to add tags to make your event easier to find on the web.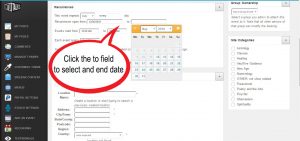 5. You must select an end date, you can choose a year down the track or a few months. For example if you have chosen a weekly recurrence and a span of 6 months, IntuiTalks and Google calendars automatically schedule your show for that period of time.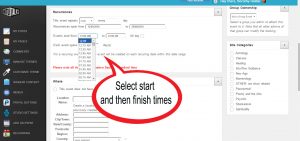 6. Click in 'event starts from field', the drop down menu gives you show start times. Then click and select show finish times. This is the length of time each event will run. You can type in the box if you wish.  Click all day if required. (Not for shows/classes).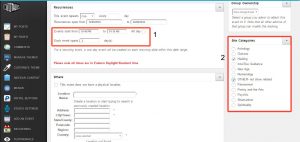 7. Normally you would not place anything in the each event spans field. However, if your shows starts before midnight and ends after midnight you will need to place '1' in the field. (example 1)
IntuiTalks has a categorized search engine, checking the category makes it easier for listeners to find your show/class.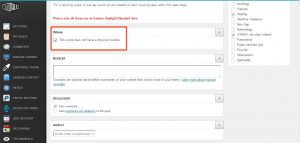 8. If your event is online only, check the field marked 'This event does not have a physical location'.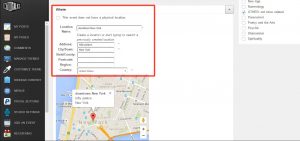 9. If your event does have a physical address, fill in the fields that will help google maps show exactly where your event is being held so others can find it easily.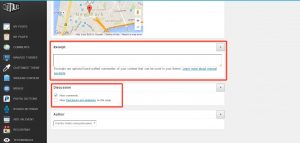 10. You can fill in the excerpt field to promote your event.
11. Below, check the box to allow comments on your event page, or un-check it to prevent anyone from being able to make comments. Click save as draft or publish to go active. If you previously published your event and are making changes, click update.